0
Enjoy Sara Orwig titles in paperback or e-books!
Someone has a pregnancy secret in this Texas Cattleman's Club: After the Storm story from USA TODAY bestselling author Sara Orwig.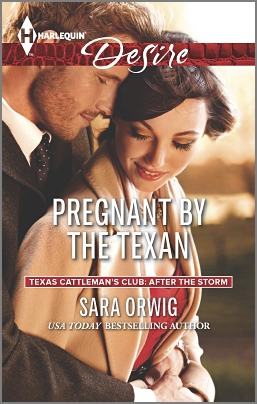 When folks think of Stella Daniels they think unassuming, even plain. But after a devastating tornado hits Royal, Texas, Stella steps up and leads the recovery effort. That's when she attracts the attention of construction magnate Aaron Nichols—and a surprising night of passion ensues.
Aaron sees something special in the no-nonsense admin, and he's more than happy to bring her out of her shell. But when he discovers Stella's expecting his child, can he overcome his demons to be the hero this hometown heroine really needs?
Just released as ebooks November 2014! The Southwestern Saga…
Bestselling Author Sara Orwig Romance Writer of Contemporary & Historical Fiction…
USA Today bestselling romance author, Sara Orwig has over 16 million copies of her books in print. Internationally, Sara's books have been translated into 26 languages and distributed worldwide. She was one of the first six inductees into the Oklahoma Professional Writers Hall of Fame and two-time winner of Oklahoma Writers Federation awards for Best Oklahoma Novel. Sara is winner of eight ROMANTIC TIMES awards including Award for Best Western Historical Romance Writer and the Award for Best Contemporary Fiction Writer.
Sara has written 97+ books for Harlequin, Harlequin Silhouette Desire & others as a Romance Writer of Contemporary & Historical fiction. Keep up with Sara's writings & thoughts on Sara's blog.